2018 – 2023 Management Scheme & Action Plan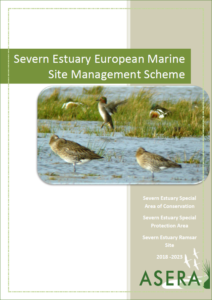 Published May 2018
The ASERA Management Scheme was updated between 2016 to 2018, following a review of the 2011 Management Scheme. In order to inform the update of the Scheme, the ASERA Officer carried out an "ASERA Road Show", which involved meeting ASERA members to discuss ongoing activities within their area of jurisdiction, and to understand whether there have been any significant changes in their role/responsibilities. This Management Scheme will cover the next five-year period from 2018 until 2023. It will be a "live" document, able to be updated in light of policy, ecological or other relevant external changes.
A formal 8-week consultation on the Management Scheme was launched on 20th November, (ending 16th January), offering Relevant Authorities and other interested Severn Estuary stakeholders the chance to comment on the draft document. This feedback has now been incorporated into the Scheme.
The ASERA Officer will carry out the "Road Show" on an annual basis as a mechanism for members to report on their actions. For more information on reporting see section 5.4 within the Management Scheme.
The ASERA Management Scheme provides a mechanism for Relevant Authorities to set the framework within which their activities will be managed to achieve the nature conservation objectives of the site. It considers whether activities are causing adverse effects and, if so, how such activities can be regulated by Relevant Authorities to prevent damage to the designated features of the EMS. For more information on the background to the scheme, click here.
If you have any queries on the scheme or would like to discuss any aspect in more detail, please get in touch with Katie Havard-Smith at Havard-SmithK@cardiff.ac.uk.
Click here to view the 2018-2023 Management Scheme. Click here to view the 2018-2023 Relevant Authority Action Plans.